Message from Dean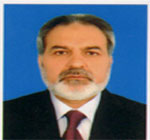 Welcome to the School of Civil and Environmental Engineering (SCEE) of NUST. The faculty and staff are devoted to serving students pursuing undergraduate and graduate engineering degrees. The school provides opportunities to students to combine studies with experien​ce and professional practice through industrial internships, offering the prospect of the best in engineering education.
​On this site, you will find an explicit description of the curricula and the academic goals and educational objectives of each of the engineering programs. As expected, these goals and objectives dictate the curricula and degree requirements. Additionally, our ambition is to enable our students to assume positions of technical leadership and professional responsibility and to achieve full satisfaction in their jobs, or in further studies upon graduation from NUST. Furthermore, we train our graduates to become energetic participants in the social changes brought about by engineering and technology.
We remain committed to excellence in engineering education.
Dr. S. Muhammad Jamil
Dean, School of Civil & Environmental Engineering (SCEE)