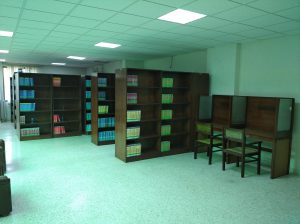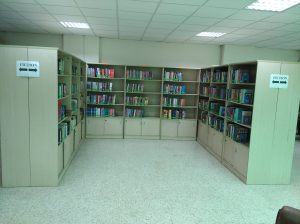 WELCOME TO SCEE LIBRARY

School of Civil and Environmental Engineering (SCEE) library is a state of the art library in the areas of Civil Engineering. It has established its repute in the student community by providing excellent services and facilities to fulfil information needs of its readers. The library has facility of HEC digital library providing 142,000 e-books & 16,500 e-journals and other non-book material. The library aims at serving the educational as well as research needs of the students, faculty and researchers. The Library consists of various sections for institutional repository, Acquisition, Cataloguing, Circulation, Multimedia/ IT/ Internet lab, Manuscripts, Archive, Information Resource Centre (IRC), Journals and Government Publications.
LIBRARY STAFF
SCEE has hired trained library staff for the smooth functioning of library. The staff includes:
1. Nasreen Akhtar (Library Officer)
Email: librarian@nit.nust.edu.pk
Phone: 051-8864115
2. Ms Saira Bibi (Assistant Librarian)
3. Muhammad Ramzan (Cataloguer)
4. Saifullah Khan (DPS)​
Email: library-nit@scee.nust.edu.pk
Phone: 051-8864116
GENERAL POLICY
Users are expected to observe the following rules while using the library services; any violation of these rules will incur appropriate disciplinary action.
a. Leave your personal belongings such as handbags, briefcases, etc., outside the library entrance, on your own responsibility. The library disclaims any liability for loss or damage.

b. Submit any book or object for inspection, when requested by the library staff.

c. Do not write, underline or mark any book. Library books are carefully examined on return and the borrower will be held responsible for the damage.

d. After reading, leave books on the table or on the book trolley. Please do not shelve the books.

e. Complete silence should be observed except for brief and subdued talk with the library staff.

f. Drinks and eatables are not allowed in the library.

g. Keep your mobiles off within the library premises.

h. Make sure you have provided correct e-mail address while filling your library membership form.

i. Report lost books or other materials to the Library immediately to stop overdue fines.

j. In case of lost Library Card, please immediately report to the circulation staff so that your membership is temporarily blocked to prevent misuse of the Library Card. Once you get a replacement, please inform circulation staff so that your memberships can be re-activated.

k.  Ask for help from library staff if you are unable to find your required material.

l. While returning library books or other materials at the circulation desk please ensure that the circulation staff has returned the book(s).
USEFUL LINKS